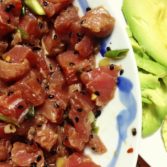 Tuna Poke Bowls
My youngest has a shellfish allergy. He has gone into anaphylaxis once (shout out to Johns Hopkins Hospital). I think his allergy is to raw oysters – which is why he's only ever had one reaction. We love eating fish meals & it has been a real joy to be able to get fish from a Kosher market in this area so that I can make fish at home & know there's no way oysters could have cross contaminated it. Tuna poke bowls are a huge hit – it's the combo of all the flavors at once that go off like fireworks in your mouth that we love; the marinated fish up against the creamy avocado & the tangy pickled ginger.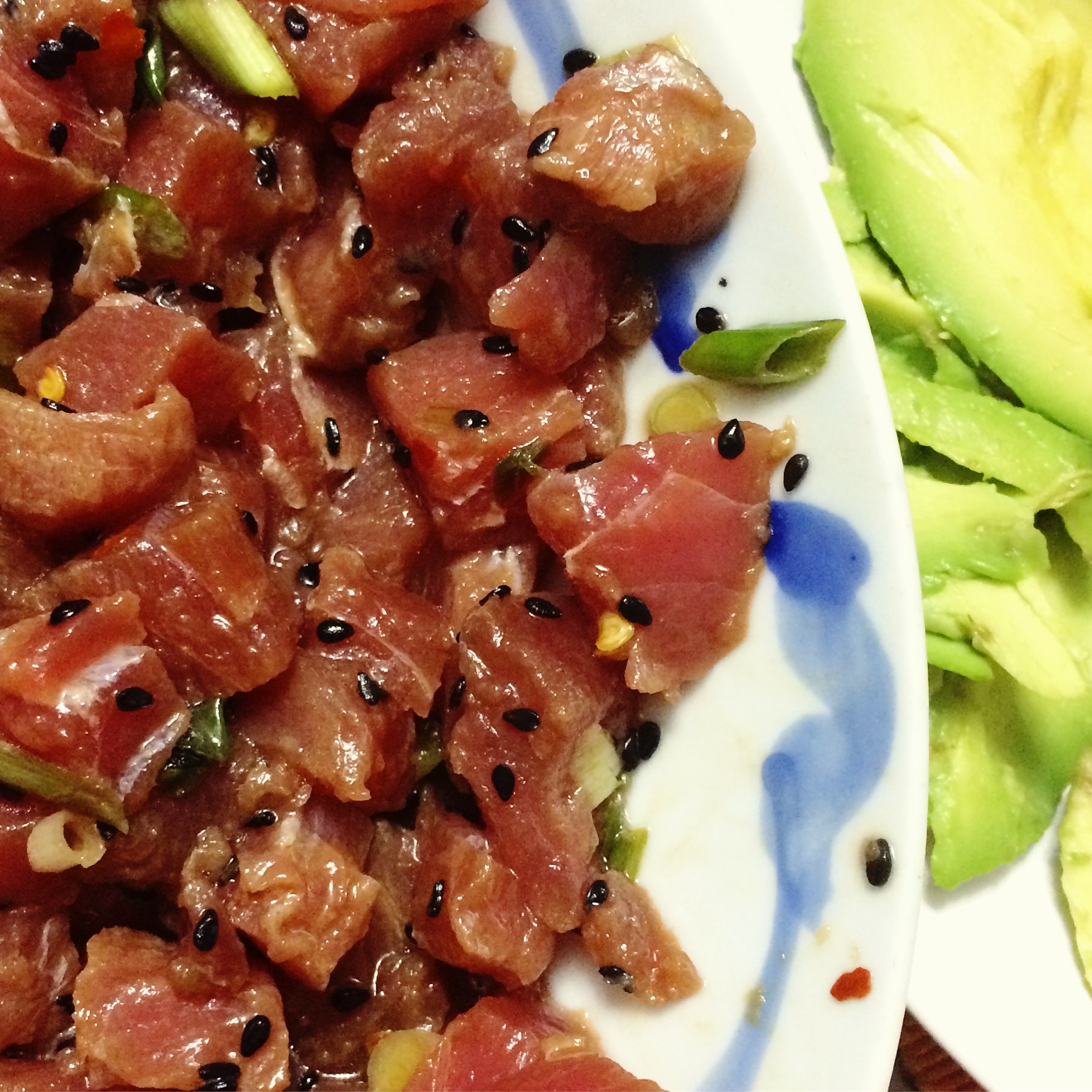 Ingredients
1 Lb Sushi Grade Ahi Tuna, cut into 3/4 inch cubes
1/4 Cup Soy Sauce, or Tamari
1/4 Cup Rice Wine Vinegar
A few shakes Sesame Oil
1 Scallion, sliced
1/2 Finger of Ginger, peeled & cut into matchsticks
1/2 Teaspoon Red Pepper Flakes
2 Cups Cooked Rice (we often use brown rice, but sushi rice is most traditional)
1 Avocado, peeled & sliced
1 cucumber, peeled & cut into 1/2 inch cubes
1 Mango, peeled & sliced – can also be fresh pineapple if you prefer
1/2 Onion, peeled & cut into cubes
3 Tablespoons Sesame Seeds
Optional- Pickled Ginger
Instructions
1
Gently stir tuna, soy sauce, 2 Tablespoons rice vinegar, sesame oil, red pepper, ginger, scallions & sesame seeds in a medium-sized, non-metal bowl. Refrigerate for 15 mins or more.
2
Mix onions & cucumbers in a small, non-metal bowl & dress with 4 Tablespoons rice vinegar. Refrigerate for 15 mins or more.
3
Scoop 1/4 Cup rice into bowls. Top with tuna, mango, avocado & quick pickled cucumber/onions. Sprinkle sesame seeds on top. Some of us like to add a little bit of the quick pickling liquid to our bowls.
5
NOTE: Some people like filling a squirt bottle with sriracha mayo & dressing their poke bowl. When we first started making our own Poke, we didn't have any mayo in the house. Now we make our own sriracha mayo all the time. My daughter is a great big fan of Japanese ginger salad dressing that you can get in the refrigerated section of the produce aisle. Sometimes she pours a little bit of that on top. She's a smart woman.
6
NOTE: Pickled ginger is super yummy & I add it to my Poke Bowl if I have some in the fridge.
Ema