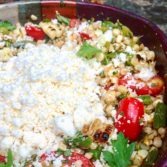 Mexican Street Corn Salad
I love summer food. I love Israeli salads, roasted summer veggies, lush squash & tomatoes fresh off the vine, grilled asparagus, and of course, corn. Elotes, or Mexican Street Corn, is a wonderful way to get lots of flavors & cheese in every bit of corn. This Mexican Street Corn is my take on that experience, without all the goopy mayo. Grilled mild peppers, hot peppers & corn get stirred into tomatoes, green onions, Cotija cheese, Israeli Couscous & a healthy mix of spices & herbs.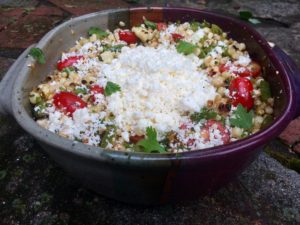 If you aren't already eating Cotija this summer, this is a good recipe to try it out some seriously yummy, crumbly cheese.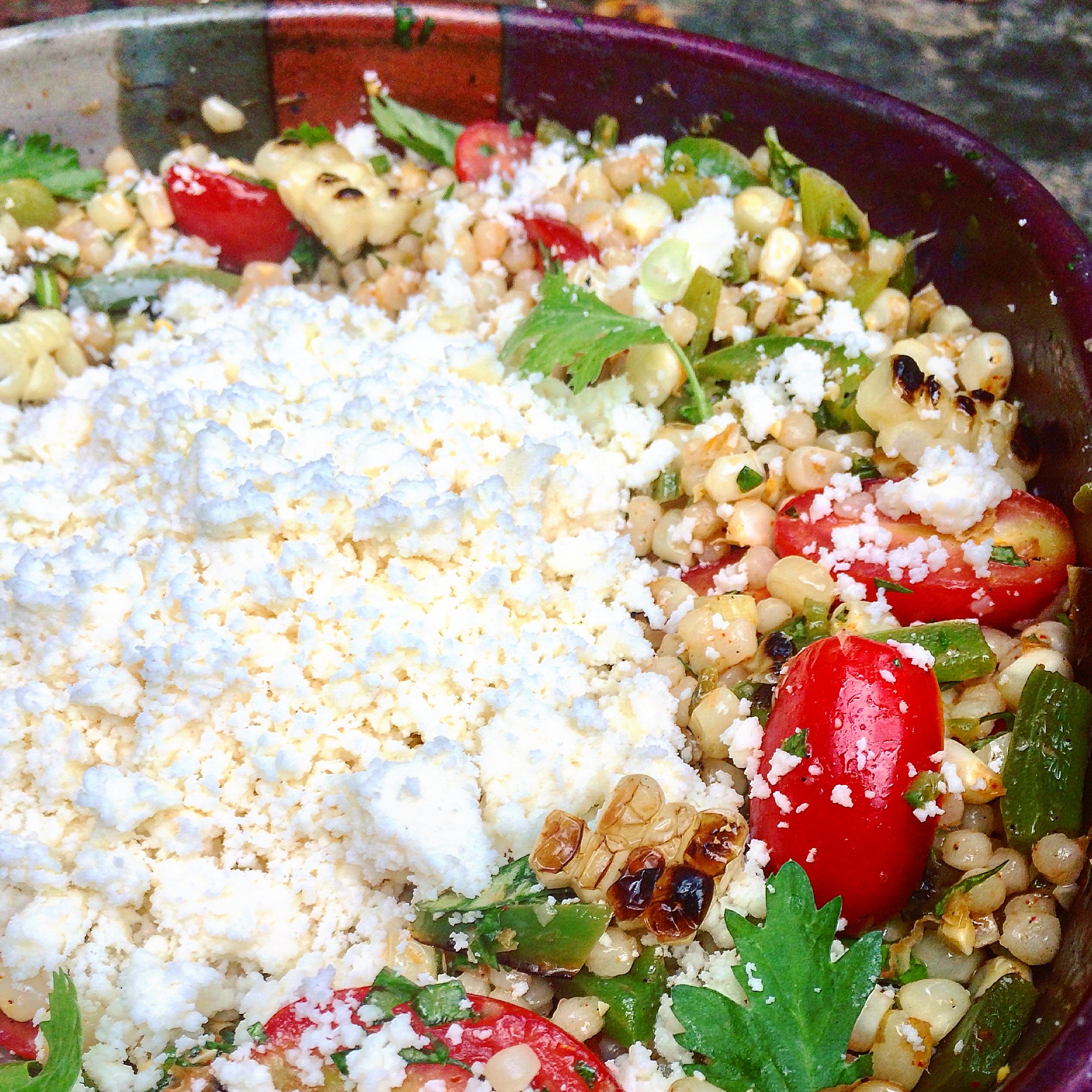 Ingredients
5 Ears of corn
2 mild Peppers, any color
3 Jalapeños
2 Hatch Green Chilis, if you have them
3 Green Onions, sliced
1 package Cherry Tomatoes, halved
Olive Oil
Butter (if you want to spread it on the corn after grilling & you know I want that)
1/4 Cup fresh Cilantro
1/4 Cup fresh Basil
3 Teaspoons Smoked Paprika
1 Teaspoon Chili Powder
1/4 Teaspoon Sea Salt
1 Lime, juiced
As much Cotija cheese as you have (or about 6 oz)
1 Cup Israeli (Pearl) Couscous
Instructions
1
Grill ears of Corn, Jalapeños, Red Peppers & Hatch Green Chilis if you have them until they are a bit charred. Set to rest. Feel free to smear Olive Oil & or Butter on them to cook & as they cool, especially Butter on the Corn.
Note: Note: I have an indoor propane stove that I put a cast iron grill on top of. Other people use their grills.
2
Cook Israeli Couscous (1.5 cups of water to 1 cup Israeli Couscous, cover when boiling and cook for 8 minutes or so).
3
Slice Corn kernels off cobs, slice Pepper into small rectangles, chop Jalapeños, discarding the seeds. Same with Hatch if you have them.
4
Combine Lime juice, spices, & fresh herbs with a few tablespoons of Olive Oil (reserving some Cilantro & Basil to garnish) in bowl or jar. Shake or whisk. I whisk directly in my serving bowl.
5
Add all ingredients into a bowl & toss.
6
Taste. Add more heat &/or Lime if you want.
7
Top with Cotija, garnish with herbs & serve.
Ema