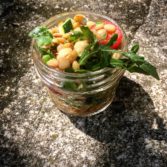 Lentil Salad
This staple Mediterranean Salad can be fixed up ahead of time & served with many other salads or Salatim, as they are called in the Middle East. Hummus, Greek Cucumber & Tomato Salad, Tabouli, Fattoush or Panzanella Salad, etc. are all great choices if you want to have a meal of many yummy salads served with good Pita Bread.
I also really enjoy eating Lentil Salad for breakfast – maybe you do too?
Ingredients
2 Cups dried Lentils
8 Cups Water
1/2 Zucchini, diced
1/2 Green Pepper, diced
6 oz Cherry Tomatoes, halved
Handful of Chickpeas
Handful of Arugula
1/3 Cup Olive Oil
1/2 Lemon, juiced
3 Tablespoons Red Wine Vinegar
Pinch Fresh Rosemary, chopped
Pinch of Kosher Salt
Instructions
1
Boil Lentils in water for 20 minutes. Cool.
2
Add diced Zucchini, Green Pepper, Chickpeas & halved Cherry Tomatoes to Lentils.
3
In separate jar or bowl combine Olive Oil, Lemon Juice, Red Wine Vinegar, & Salt to make Vinaigrette. Pour over Lentils.
4
Add in Arugula & Rosemary & give a gentle stir.
6
Additions: Feel free to add other vegetables such as Red Onion or Kalamata Olives, if desired. Garlic, Cucumber & Feta Cheese are also yummy additions.
Ema