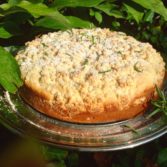 Lemon Rosemary Crumb Cake
Lemon is right up there on my top 10 list of favorite foods. Lemon in my turmeric Bragg apple cider vinegar drink each morning, lemon in my salad dressings, in my hummus, in my chicken dishes, in my desserts. I never grow tired of it. While I rarely bake cakes, when I do they are almost always lemon or lime. Unless my daughter is in town, then cakes are totally gonna be zucchini…
But back to lemon. I wanted to give my handsome husband & teenager a surprise breakfast the other morning & looked around at what I had on hand. Fresh herbs, lemons, & basic baking supplies. Got it, I thought, a crumb cake but instead of something typical let's go for herbal. I used an old standby crumb cake recipe I have, reduced the sugar, added lemon juice & zest & tried out what happens when I sprinkled rosemary between the batter & the crumb.  Yumminess happens.
Also huge shoutouts to people who were DMing me asking for this recipe & to my hard-working microplane who makes zesting super easy.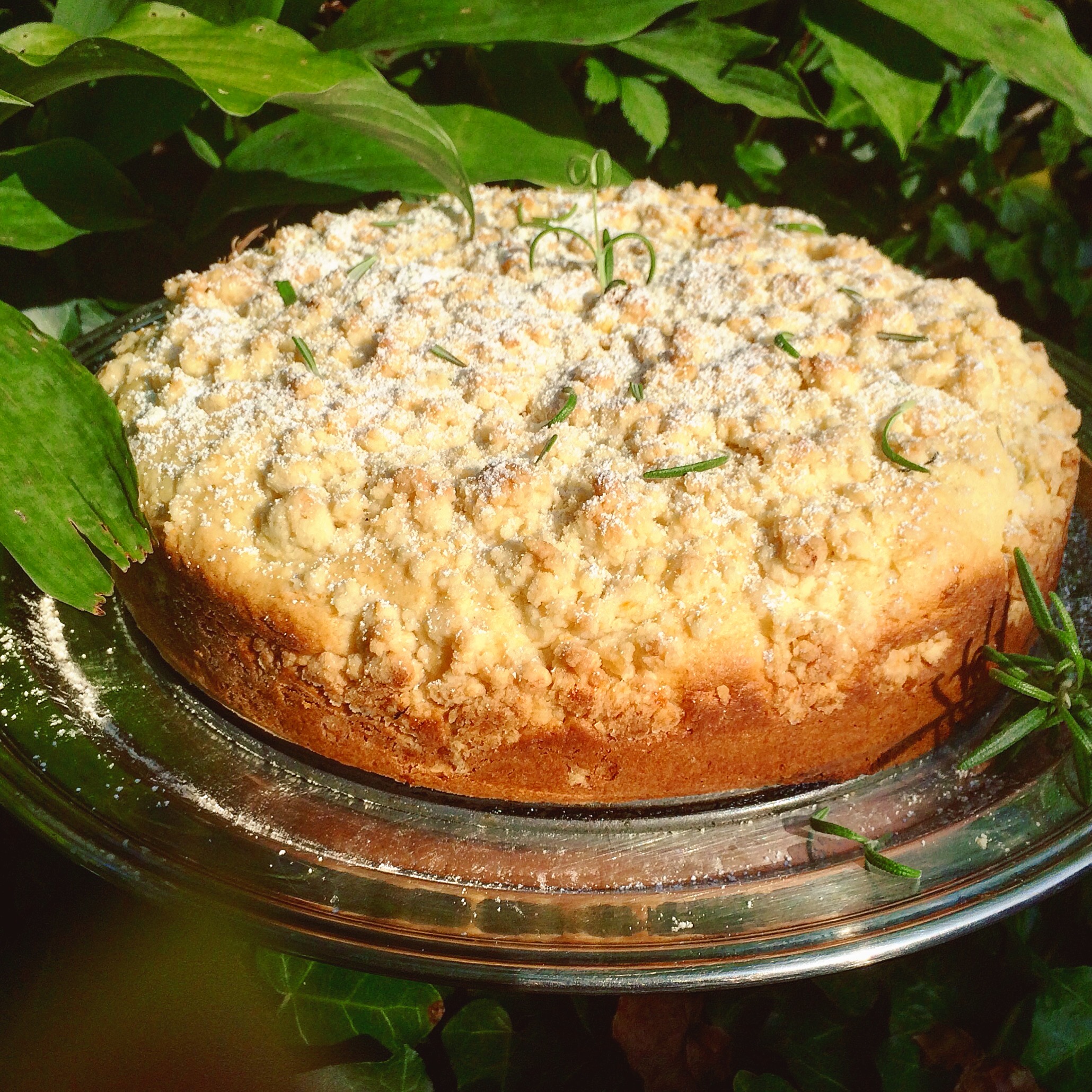 Ingredients
2 Cups Unbleached Flour + 3/4 Cup unbleached flour for Crumb Topping
1 Teaspoon Salt
2 Teaspoons Baking Powder (aluminum-free)
1/2 Cup Unsalted Butter, room temp also 4 Tablespoons Unsalted Butter, melted for Crumb Topping
3 Lemons, zest & juice in 2 separate containers (about 2/3 for the for Cake & 1/3 for Crumb Topping)
3/4 Sugar (or a bit less) + 1/3 Cup Sugar for Crumb Topping
1 Egg, room temp
2 Teaspoons Vanilla
1/2 Cup Whole Milk + 1 1/2 Teaspoons Vinegar
A bunch Fresh Rosemary, roughly chopped with a few sprigs left for garnish
Confectioners Sugar
Instructions
1
Preheat oven to 350 Convection.
2
Grease & Flour Springform pan (8 in).
3
Cut a parchment circle for bottom of pan & lay over the greased, floured surface.
4
In a small bowl mix Crumb Topping ingredients with a fork, leaving some bigger crumbs.
Ingredients for Crumb Topping:
4 Tablespoons Butter, melted,
3/4 Cup unbleached Flour,
1/3 Cup Sugar,
2 Tablespoons Lemon Juice,
Zest of 1 Lemon
5
In a different small bowl wisk together remaining Flour, Salt, & Baking Powder.
6
In a Stand mixer with the paddle attachment, add Butter, Lemon Zest & Sugar and beat until fluffy.
7
Scrape sides of bowl several times with spatula.
8
Add Egg & Vanilla and remaining Lemon Juice and beat again.
9
Combine Milk & Vinegar (it's a substitution for buttermilk – which you can use instead, if you prefer).
10
Alternate adding Milk & dry ingredients to the stand mixers in thirds, scraping sides of bowl with a spatula each time. Beat until well blended.
11
Spread batter into prepared springform pan. Use spatula to spread evenly.
12
Sprinkle cut Rosemary onto the batter.
13
Top with Crumb topping.
15
Let cool ( or only mostly cool, if you're like me).
16
Dust with Confectioners Sugar.
17
Add additional cut Rosemary & Rosemary sprigs for garnish.
19
NOTE: A super treat for breakfast served with strong espresso.
Ema