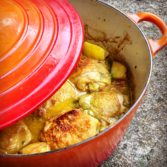 Turmeric Lemon Dill Aioli Chicken Thighs
I have a ton of fresh Turmeric in my fridge. Each morning my handsome husband & I drink a Bragg Apple Cider Vinegar hot drink that has fresh Turmeric in it. We love the way it helps rehydrate after sleeping, how it sets our metabolisms for the day, & how it helps with all those aches from living an active life. This recipe helps use up 4 whole Turmeric Roots when I realize that we have far too many, & it tastes super yummy. Like, seriously yummy.
It has a cheat in the recipe: store bought Lemon Herb Aioli. Let's be real – you & I can both probably make a great Aioli when we want to. Let's also be real, using a very good Aioli from a jar STILL COUNTS AS COOKING. Lots of my friends & family don't have the most cooking experience nor do they have a ton of confidence in their culinary ability. I want them to feel fabulous about making great meals. Hey you guys, you totally got this!
Also: want to show off your new cooking hack?  Try using a spoon to peel Turmeric! Using a spoon to peel Turmeric is faster, easier & leaves more Turmeric than using a knife! (You can totally try with with Ginger, too)
Try Stonewall Lemon Herb Aioli for this recipe:  you can get it at your favorite gourmet shop, on their website or Amazon: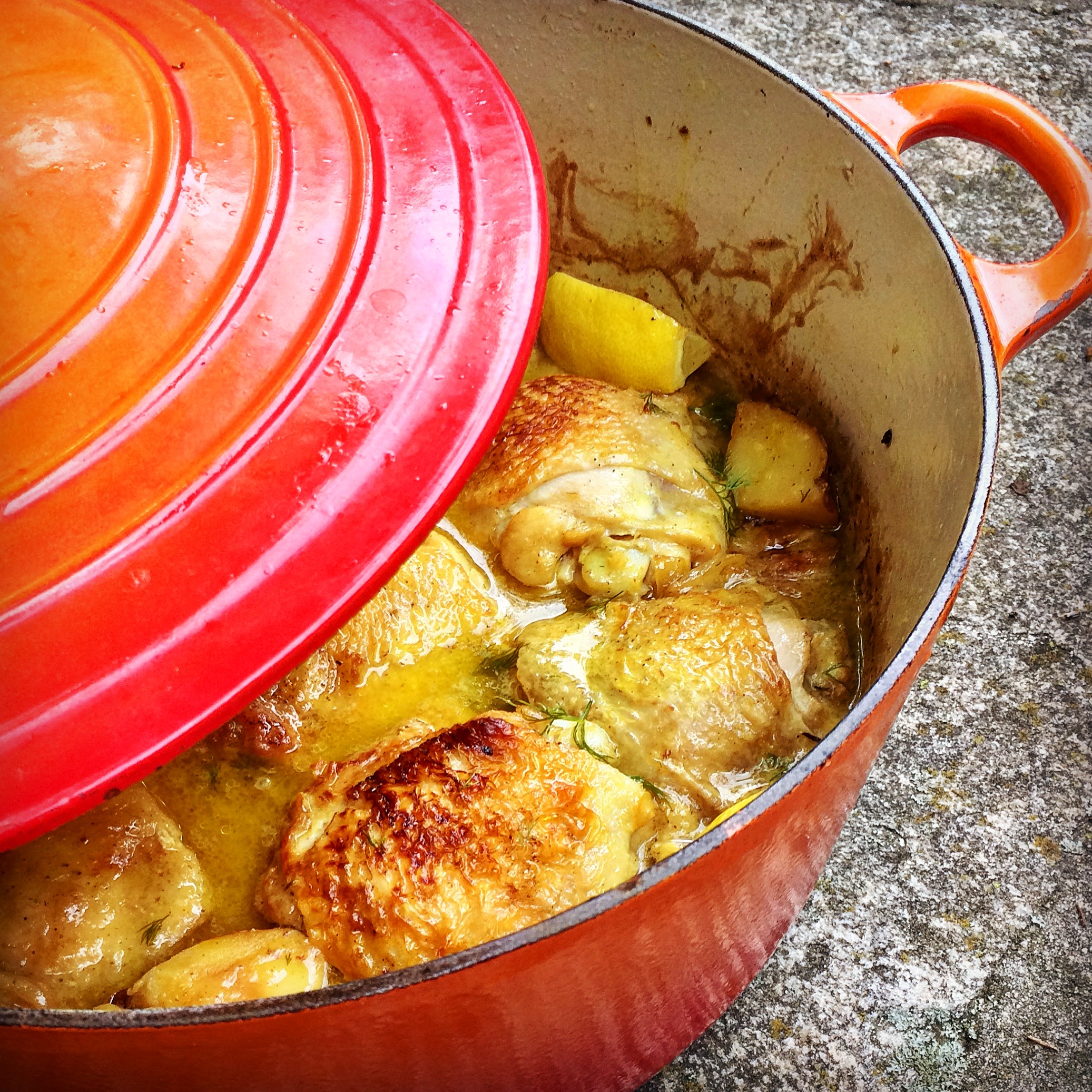 Ingredients
3 Tablespoons Coconut Oil
6 skin-on, bone-in Chicken Thighs
Salt & Pepper
1 1/2 Onions, Sliced
4 Russet Potatoes, washed & cubed
4 large, whole, fresh Turmeric Root, peeled & diced
10-12 oz Lemon Herb Aioli (or you can make your own)
2 Cups Chicken Stock
1 Bunch Fresh Dill
1/2 Lemon, cut in wedges
Kosher Salt
Instructions
2
Dry Chicken Thighs & season with Salt & Pepper.
3
Heat Coconut Oil in a Large Dutch Oven over medium/high heat.
4
Add Chicken Thighs skin side down & cook until skin is golden brown (5-6 minutes).
5
Remove Chicken Thighs from Dutch Oven. Add Cubed Potatoes & Sliced Onions to Dutch Oven & cook until some sides of potatoes are golden brown & the onions are translucent (6-8 minutes).
6
Add chopped Turmeric & cook for an additional 2-3 minutes until potatoes & onions are yellow & fragrant.
7
Add 1/2 Lemon Herb Aioli & Chicken Stock. Cook for 2-3 minutes.
8
Turn off heat. Add Chicken Thighs, skin side up, on top of potato/onion/turmeric base & cover.
9
Bake for 40-50 minutes making sure that chicken is cooked.
10
Stir in remaining 1/2 of Lemon Herb Aioli.
11
Garnish with fresh lemon wedges, fresh dill, & kosher salt.
Ema