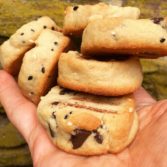 Tahini Chocolate Chunk Cookies
Today is the very last day of high school for my very last kid. It hadn't hit me as anything super special for me, until I realized that I wanted to bake cookies. I very rarely bake cookies. When I do, they are almost always for someone else or because they taste like a holiday: guests coming over on the weekend, my handsome husband & I are having 4:00 coffee time, Hamantashen for Purim, etc. But I don't ever make cookies for me. If I did, they would most likely be savory biscuits, something herbal, something not-sweet.  Maybe blue cheese.
Today I wanted to cook cookies with chocolate chunks.
I was seeking comfort and found it when my kitchen totally starting smelling like Halva.
So here's to my youngest son, taking on the world, graduating early, on his own terms.  Here are some cookies I baked for you to give you fortitude on your journey wherever you go.
PS: Credit where credit is due. While it is hard to say that any recipe was invented whole-cloth by anyone person, this cookie recipe definitely is not. I am an enormous fan of Yotam Ottolenghi & Sami Tamimi & these cookies are my version of their Tahini Cookies from Jerusalem: A Cookbook.
Ingredients
1/2 Cup White Sugar
2/3 Cup Unsalted Butter, at room temp
1/2 Cup Tahini
1/2 Teaspoon Vanilla
5 Teaspoons Light Cream
2 Cups Flour, (I used bread flour)
2-3 Tablespoons Dark Chocolate Chunks
1 Teaspoon White Sesame Seeds, 1 Teaspoon Black Sesame Seeds
1/2 Teaspoon Sesame Oil
1 Teaspoon Ground Cinnamon
Instructions
1
Heat a dry, small cast iron pan for toasting the Sesame Seeds.
2
Gently toast Sesame Seeds in Sesame Oil. Let cool.
3
Heat oven to 400 (I used convection setting)
4
Beat Butter & Sugar with a hand mixer until just combined.
5
Add Tahini, Vanilla & Cream. Beat.
7
Kneed dough in bowl with a small amount of Flour until it comes together.
8
Kneed Sesame Seeds & Chocolate Chunks into dough.
9
Roll into balls & flatten inside your thumb & first finger as you make the a-okay sign with your hand. Place on cookie sheet on top of a silicone pad about 12-14 to a full sheet.
10
Dip fork into Cinnamon & gently press into cook balls to flatten a bit.
11
Bake for 8-10 minutes or so or until lightly brown.
Ema