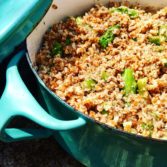 Tahini, Asparagus & Bulgar Wheat Salad
Bulgar Wheat is great for Tabouli (also spelled Tabbouleh), I get it. And yet, I think of Tabouli as a summer salad perfect with super fresh cucumbers & tomatoes. For spring, I'm going in a different direction with my bulgar wheat salad & using the asparagus that shows up in my markets in late April/early May. It's a great addition to a spring-y salad & pairs up super lovely with your first grill meals of the season – kabobs, fish, chicken, veggies…whatever!
For this salad I'm walking away from the traditional minty vinaigrette & making a lemon tahini sauce for this salad, which lends a nutty flavor. I leaned in even farther to the nutty direction & topped the salad with ground almonds. Simple, creamy, zingy, & so, so flavorful!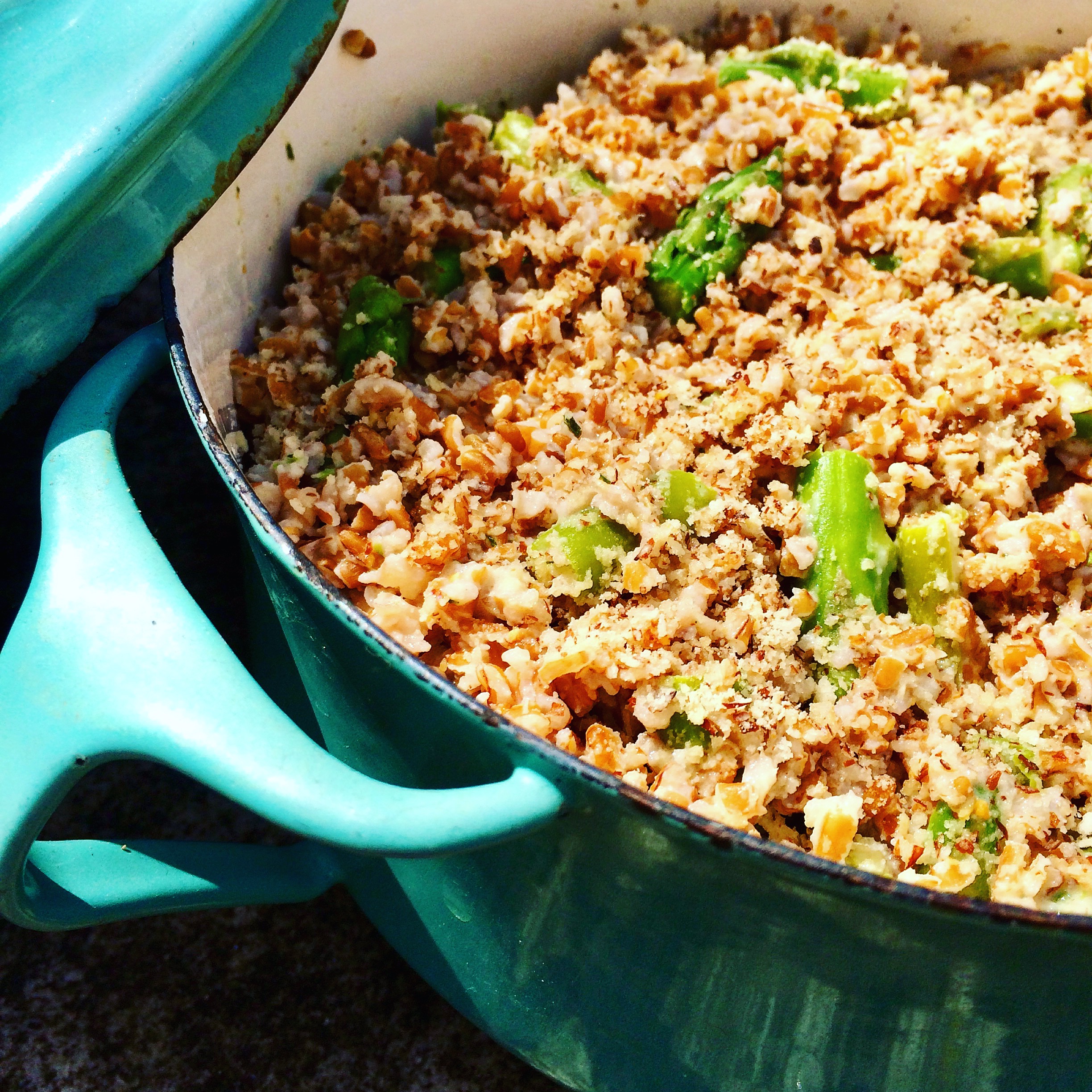 Ingredients
2 Cups Bulgar Wheat
1 bunch Asparagus, cut in 1″ pieces & then in half long-ways
(note: I snap off the woody ends of each Asparagus)
1/2 Cup Tahini
1/4 Cup Lemon Juice
1/4 Cup Olive Oil
1/2 Teaspoon Kosher Salt
1 Clove Garlic, minced
1 Teaspoon Honey/Agave/Sugar (to your taste)
1 Tablespoon Ground Almonds (optional)
Instructions
1
Boil 4 cups water in a medium pan.
2
Remove from heat & add Bulgar Wheat. Cover & let sit for 20 minutes.
3
Boil Asparagus in a separate pan for 2 or so minutes, until color turns bright green. Immediately place Asparagus in an ice bath to shock.
4
Add Tahini, Lemon Juice, Olive Oil, Kosher Salt & Garlic to a mixing bowl & whisk together. If sticky, like peanut butter, add a few tablespoons water & whisk again.
5
Taste. If too bitter for your taste, add sweetener such as honey, agave or sugar. Whisk again.
6
Strain Bulgar Wheat in case there is still water at the bottom of pan & add to sauce. Stir.
7
Gently fold Asparagus into Salad. Transfer into a serving bowl & top with Ground Almonds, if desired.
9
Note: This salad can be served immediately. It is better if given an hour or 2 in the fridge before serving so that Bulgar Wheat can soak up the Tahini sauce flavors.
Ema