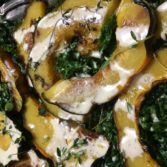 Roasted Acorn Squash & Kale with Maple Tahini Dressing
I roast lots of veggies in the oven & my go-to for a roasting oil is coconut oil. I like to add it with my hands & massage it into my veggies & I like the way that it coats both the veggies & the roasting pan so that I can avoid any kind of sprays or vegetable oil. If you are going to use coconut oil as much as I do, you might as well buy it in bulk & make coconut oil your body oil. I use it daily all over my skin fresh out of the shower. I scoop coconut oil into a small, clear mason jar to have in the bathroom & keep the cooking oil in the kitchen.
My current favorite coconut oil is Kosher, easily warms up in my hands for both cooking & skin care & comes from Lancaster, PA where I used to live. A great bargain & a great way to get to have an ingredient doing double duty in your home.
NOTE: This recipe uses my Tahini Dressing.  You can find my sauce and dressing recipes in the Fill Yer Fridge section here.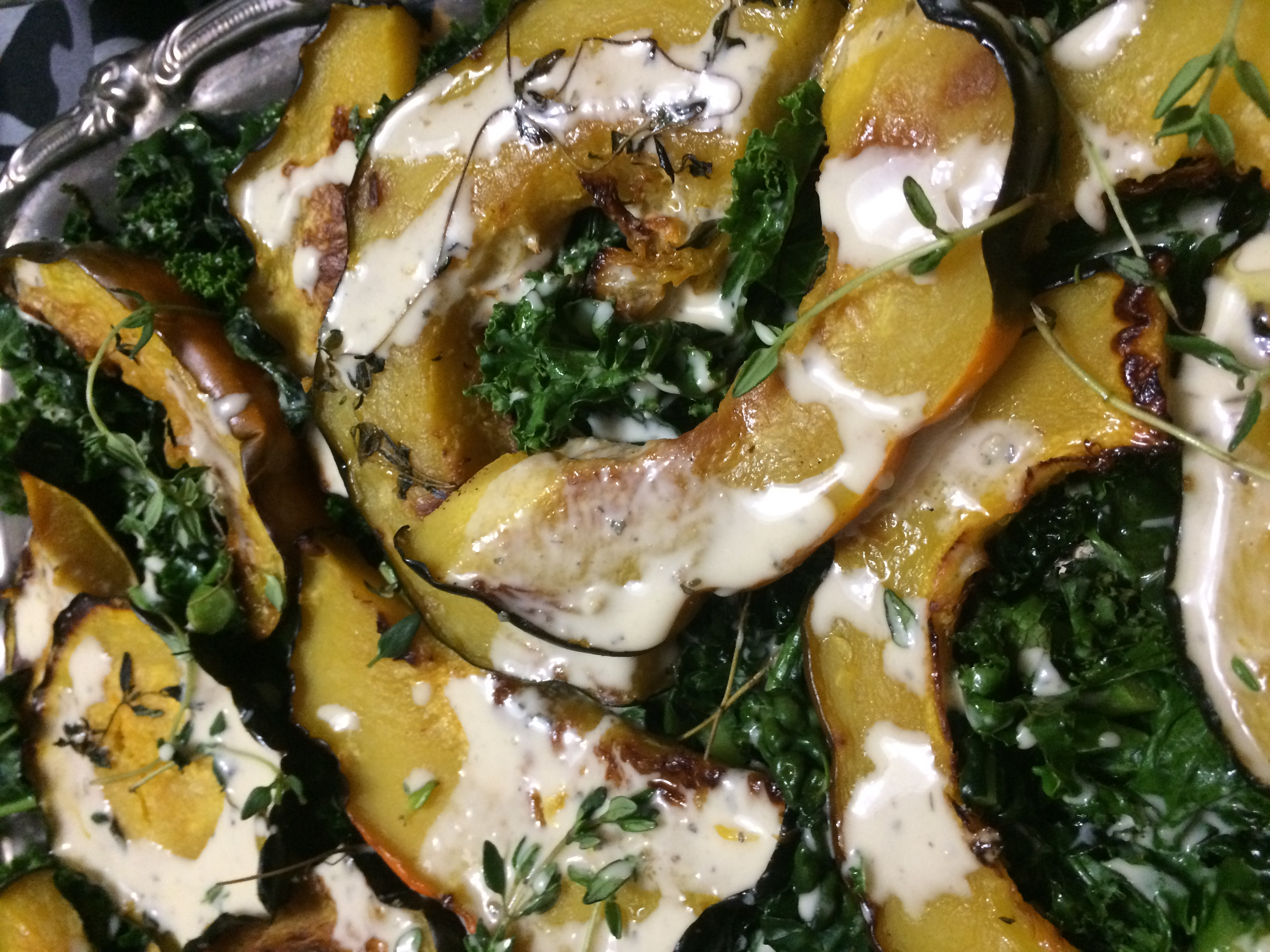 Ingredients
2 Acorn Squash, cut in half, remove seeds, and cut into slices (you can use other squash such as Delicata or Festival)
1 bag chopped Kale, about 1 lb (sometimes there are a lot of rib pieces. I just eat those while I am cooking instead of sauteéing them).
2 Tablespoons Coconut Oil
4-5 sprigs Fresh Thyme
Sea Salt
Maple Tahini Sauce (enter link here)
Instructions
1
Preheat oven to 400 degrees
2
Place squash slices, coconut oil, sea salt and thyme sprigs on a baking tray and massage together with your hands. It's fun& it gets the coconut oil evenly spread over the squash slices & the baking tray.
3
Bake for 30 mins. If your slices are 1/2 inch or less it will take closer to 25 minutes, if they are closer to an inch it will take closer to 45 minutes. What you are looking for are golden brown areas of caramelized goodness on the bottoms of the squash slices. When you see that, turn the slices and bake for another 15-20 mins.
5
Quick sauté kale in warmed cast iron pan with just a bit of olive oil for just 2 mins or so. Turn off heat. The bottom kale will be sauteéd and the top will still look raw. That's good. Stir and the raw bits will be warmed by the warm kale and the bottom of the pan.
OR: put kale and about 1 tablespoon of olive oil on a baking tray and bake for about 3 minutes. You'll want to watch for the tops of the leaves getting brown. Take it out of the oven a little bit under cooked and stir. The heat & the turning will help bake the more raw bits.
6
Plate kale on a serving tray. Top with squash slices. Drizzle Maple Tahini Dressing over it. Serve warm.
8
Note: I like have extra on hand. The next day this is a great leftover to add to a Buddha Bowl… or just eat out of the container when no one is looking.
Ema