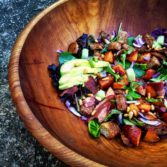 Nectarine Panzanella
Take a great big wooden bowl & fill it with deliciousness. That is how lots of my diner salads tend to go. Just throw lots of great ingredients in together and enjoy!
Panzanella, a Tuscan bread salad typically made with fresh tomatoes, balsamic & basil (among other ingredients), is one of those amazing dinner salads I love to make. The crispy bread gets mixed with some of the vinaigrette & fruit for about 20 minutes before you toss the salad and they soak in all the amazing flavor of Balsamic Vinegar, Lemon, Garlic, Olive Oil, Kosher Salt, and Maple Syrup.  It's a wonderful way to celebrate good bread that needs to be eaten!
This version is tomato free.  Feel free to add/substitute to this salad all that you want: Peaches, Tomatoes, Mozzarella, & Burrata, could all make lovely additions.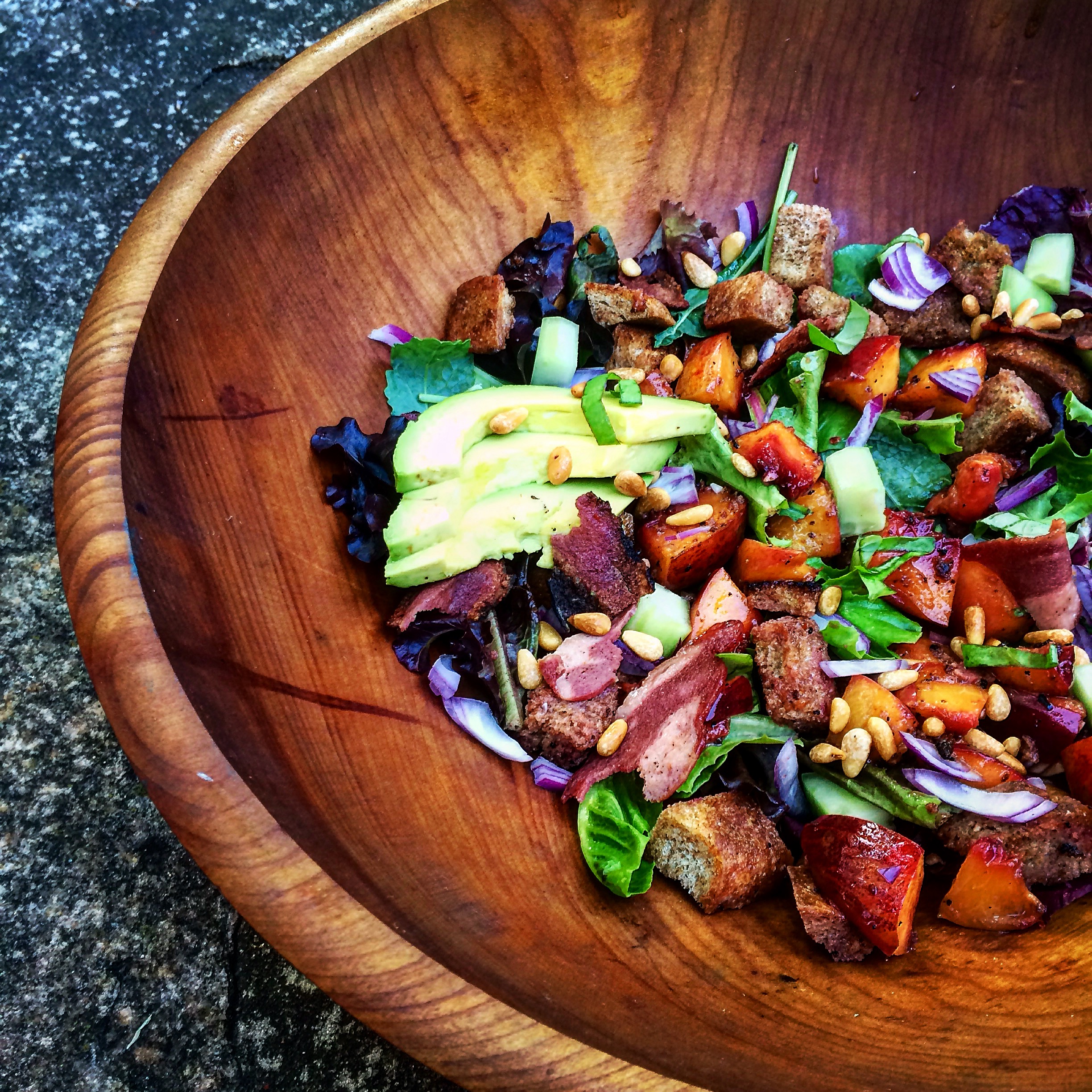 Ingredients
4 thick Slices of 2-day old Bread, cubed
1/4 Cup Olive Oil
4 Tablespoons Balsamic Vinegar, or more
1 Clove of Garlic, chopped
2 Tablespoons Maple Syrup
Juice of 1 Lemon (aprox,3-4 Tablespoons)
Kosher Salt
2 Nectarines, sliced thickly
6 slices Turkey Bacon
1/2 Red Onion, sliced finely
1/2 Avocado, sliced
1 Cucumber, peeled & chopped
1/2 lb Spring Mix, or other greens
3 Tablespoons Toasted Pine Nuts
10-12 Basil Leaves, chiffonade or torn
Instructions
1
Using a cast iron pan, toast cubed Bread in 1-2 Tablespoons of Olive Oil, 5-6 minutes, or until lightly browned. Let cool in pan.
2
Combine remaining Olive OIl, Balsamic, 1 /2 Teaspoon Kosher Salt, Lemon Juice, & Maple Syrup to make Vinaigrette.
3
Lightly grill Nectarine slices. Let cool & then cut each slice into thirds.
4
Fry Turkey Bacon & let cool. Tear into pieces.
5
Combine Nectarines, Bread & 1/2 of Vinaigrette in pan & let sit for 20 minutes.
6
Toss Veggies, Nectarine/Bread Combo together in a large bowl. Top with Turkey Bacon, Basil & Pine Nuts. Add additional Vinaigrette as desired.
Ema