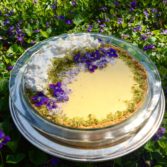 Lime Pie
Everyone in our family gets to pick their cake for their birthday. My handsome husband always, always picks Teaberry Cake, my daughter usually, but not exclusively wants Zucchini Cake with Caramel Frosting, my oldest varies from something with Pecans, to something like Carrot Cake, to Lemon Drizzle, I normally choose homemade ice cream, &, the youngest just about always wants something lemony. This year, however, he said what about pie. And for this citrus lover, I had just the right pie in mind – a tangy, smooth & creamy lime pie that showcased the wild violets we have growing out back.  Some lime pie recipes are all Cream Cheese while others are all Sweetened Condensed Milk. I played around & came up with this recipe that uses some of both to get that ultra silky lime curd texture.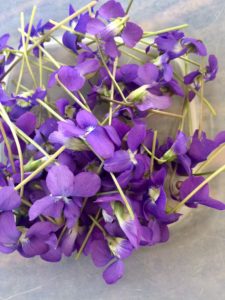 This pie is really Lime Pie Topped with Sugared Violets, Violet Sugar, Lime Zest & Whipped Cream.  Or, yummy for short.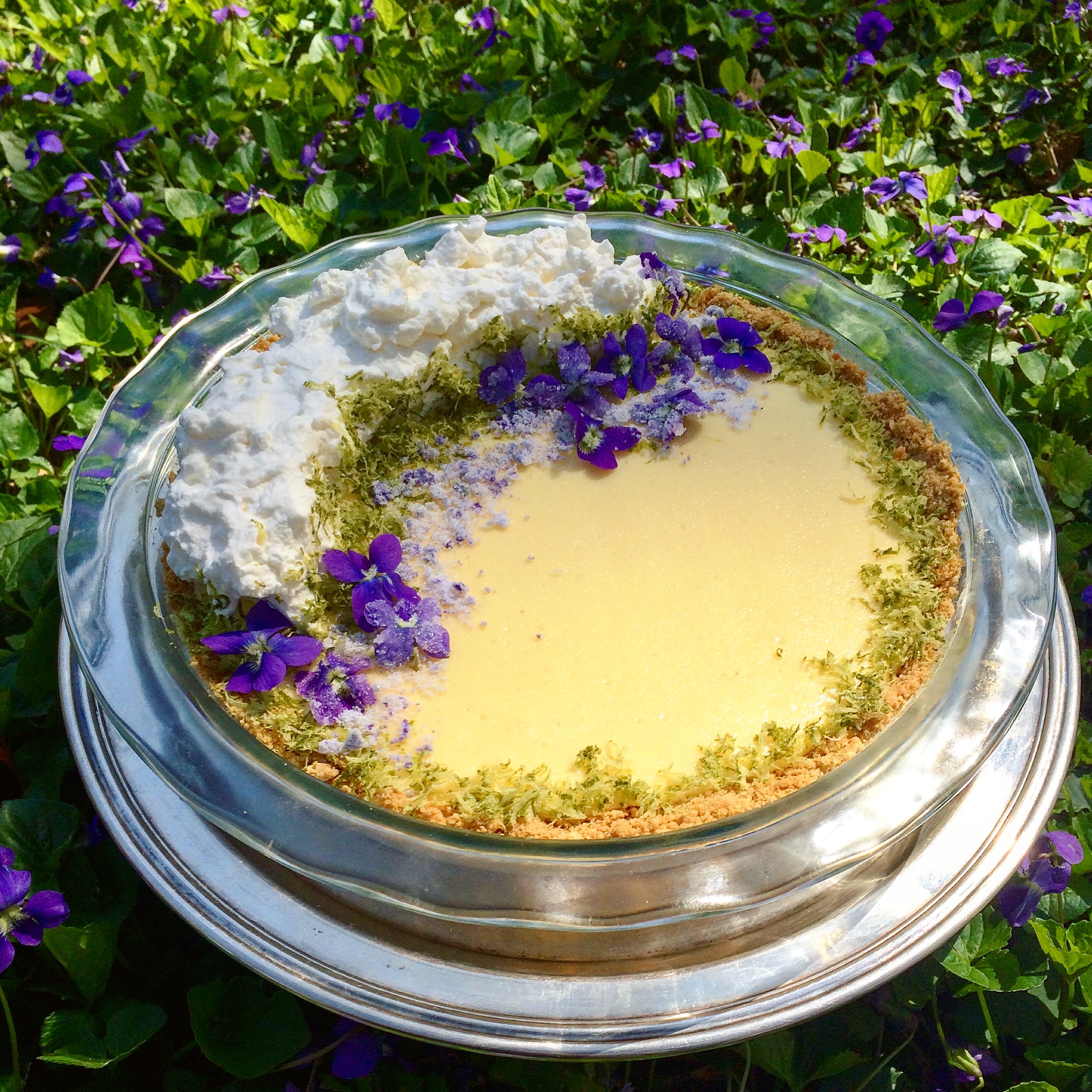 Ingredients
2 1/4 Cups Crushed Graham Crackers
5 1/2 Tablespoons Butter, melted
1 8oz Package of Cream Cheese, softened
1 14oz Can Sweetened Condensed Milk
5 Egg Yokes
3 Limes
1/4 Cup Lime Juice
1 1/2 Cups Heavy Whipping Cream
2 Tablespoon Confectioners Sugar
Edible Flowers (I used Wild Violets)
Instructions
2
Butter 9.5″ pie pan (if you don't have a 9.5″ pie pan, use 9 inch or long tart pan & you will need slightly less of the butter & graham crackers to make crust)
3
Melt Butter in microwave or stovetop.
4
Place Crushed Graham Crackers in pie pan (a 9″ pie pan will use closer to 2 cups)
5
Add melted Butter & stir.
6
Press mixture on the bottom & sides of pie pan to form the pie crust.
7
Bake for 10 minutes & then set to cool on a wire rack while preparing the lime curd.
8
Beat Cream Cheese in a bowl with a hand mixer for 3-4 minutes.
9
Add Sweetened Condensed Milk & beat with hand mixer. Scrape sides with spatula & mix again.
10
Add Egg Yokes & beat for 6-8 minutes or until well blended & thick.
11
Microplane all 3 Limes & reserve Lime Zest for garnish.
12
Juice 3 Limes & put lime juice in a measuring container. Add bottled Lime Juice to fresh lime juice so that total lime juice is just over 1/2 cup.
13
Add Lime Juice to curd & mix with hand blender for 2-3 minutes. Scrape sides of bowl with spatula & mix again.
14
Pour pie filling (curd) into crust, place pie pan on a baking sheet, & bake for 10-13 minutes. (I used 13 minutes for 9.5″ pie pan). Edge of pie filling will be set & center will still jiggle a little when removed from oven.
15
Cool on wire rack. Refrigerate overnight.
16
Make whipped cream by mixing Heavy Whipping Cream with a hand blender until stiff. Add Confectioners Sugar & hand mix for 1 more minute.
17
Decorate pie to your style using Whipped Cream & Lime Zest. I added Sugared Violets, fresh Wild Violets and Violet Sugar to the pie in the picture & you can decorate however you like.
18
Serve slices with Whipped Cream & Lime Zest.
20
NOTE: Sugared Violets are Violets painted with Egg White & dipped into white sugar. Violet Sugar is Violet petals & White Sugar that have been blitzed. I use a coffee grinder to blitz.
Ema