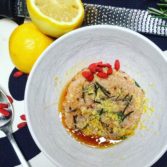 Lemon, Rosemary Oatmeal with Goji Berries
When I was a kid we had oatmeal that came in small brown bags. You added hot water, stirred & then tried to only eat spoonfuls that had dehydrated bits of apple or clumps of brown sugar.
Then I turned 16 and spent the summer interning at the Royal Melbourne Zoo in Australia. My six week stay was divided into thirds & I spent 2 weeks at each of 3 of my mom's friend's homes. I ate what they ate, went on family adventures, got rides into work, & tried to help out with the kids & the dishes. Stuart's family ate porridge almost every morning, a bowl of goodness I had never encountered before. Thick, slow cooked, multigrain, chewy, hot oats eaten with fresh berries or fruit & a steaming mug of tea. White it was summer at home it was winter in Australia & this hearty, nutty, not-too sweet & not processed hot cereal kept me full as I did my teenage best version of raking wallabee enclosures, or whatever the Zookeepers tasked me to do. Gosh, I hope I was a help to them & not added weight.  What I know for sure is that Stuart's family recipe for porridge fueled me on.
I'm raising a sticky oatmeal spoon of 10 grain hot cereal to you, Stuart.
I really like the tangy taste of Goji Berries, but you sprinkle on whatever you want, lovelies.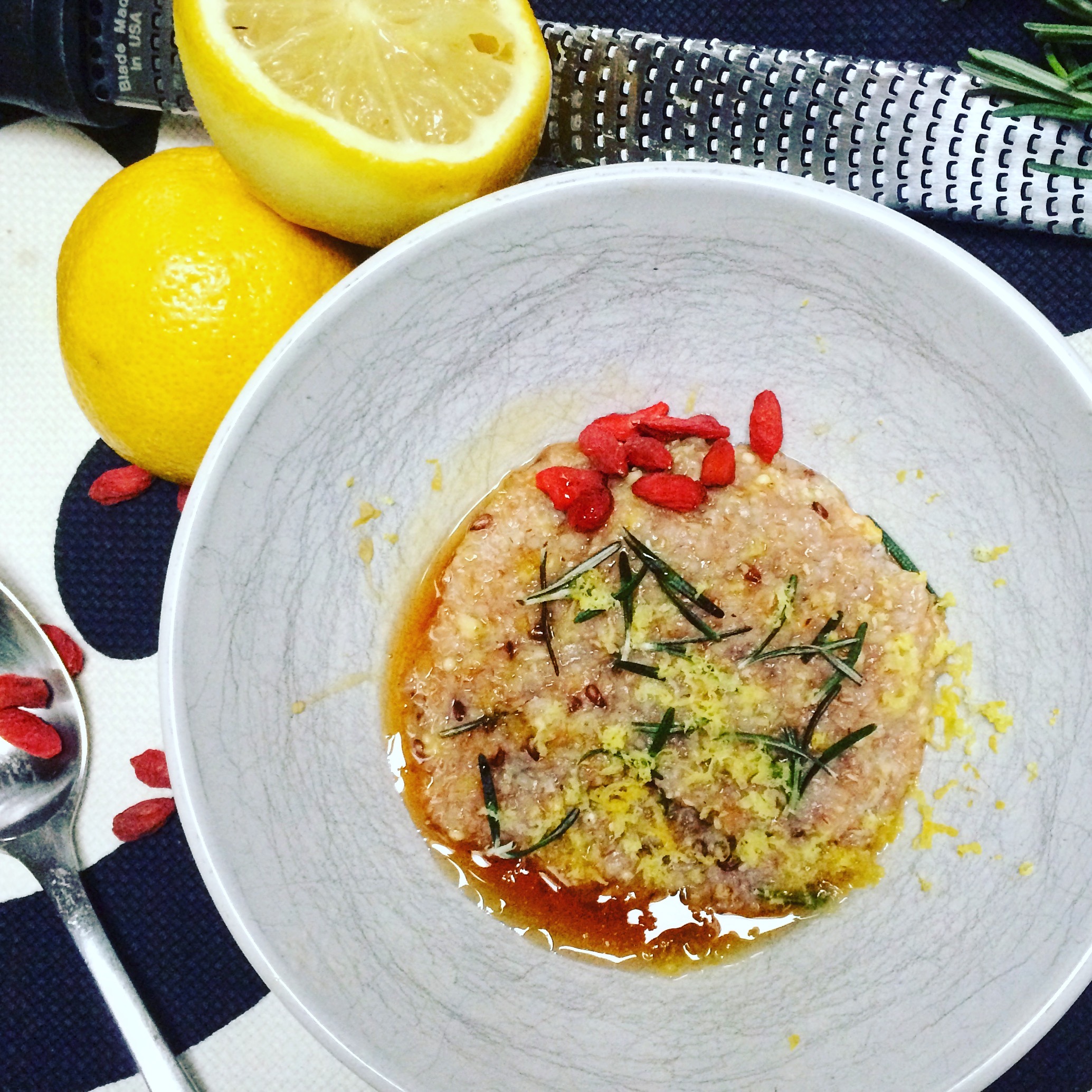 Ingredients
Oatmeal, cooked according to its instructions. Use your favorite grain & cook slow & low. Steel-Cut Oats, Multigrain Porridge, 10 grain hot cereal, even Quinoa are all great choices.
1/4 Lemon, about 1 Teaspoon zest & 1 Teaspoon juice
4-5 Dried Goji Berries
1 Tablespoon of pouring sweetener (Honey, Agave, Brown Rice Syrup, Date Syrup, Maple Syrup, etc)
1 Teaspoon fresh Rosemary leaves, chopped
Dash of Salt
Consider adding grated fresh ginger &/or grated fresh turmeric to give this oatmeal some additional pow.
Instructions
1
Cook oatmeal of your choice, slow & low.
2
Pour lemon zest & juice over hot oatmeal. Top with honey or other sweetener, salt & rosemary. Add a few Goji berries.
4
NOTE: play with the toppings to your taste! Fresh or dried berries, nuts, seeds, cinnamon, ginger, orange, etc all make lovely flavor combinations for oatmeal.
Want a pop of flavor? Consider grating fresh turmeric and fresh ginger & stirring in.
Ema