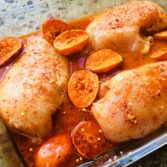 Harissa & Clementine Chicken Marinade
This versatile marinade can be used for Chicken Thighs, Breasts, whole birds, even fish. It works wonderfully in the oven & out on the grill. The lazy protein gets to bathe in the marinade all day or overnight to let the flavors develop, & the salty brine gets into the meat to plump it up. While I call for clementines in this recipe, feel free to experiment with the citrus of your choosing – this recipe could be excellent with substitutions of other kinds of citrus such as oranges, lemons, or limes.
Some Harissa are dry spice blends & others are wet spice pastes – while I currently have the dry spice blend at home, I'd think both would work equally well with this marinade recipe. In fact, I don't think my Harissa is spicy enough so I add more crushed red pepper to my marinade – that's probably too much heat for some – so adjust according to your taste!
What is Harissa? It's a North African or Mediterranean Spice Blend, just as Curry & Chili are Spice Blends. Depending on who makes the Harissa it might contain, Hot Chili Peppers, Cumin, Coriander & more. Amazon sells many kinds as will your local healthy grocer.
& speaking of taste…this marinade makes for exceedingly tasty chicken! That smell as it is roasting or grilling?  Oh my!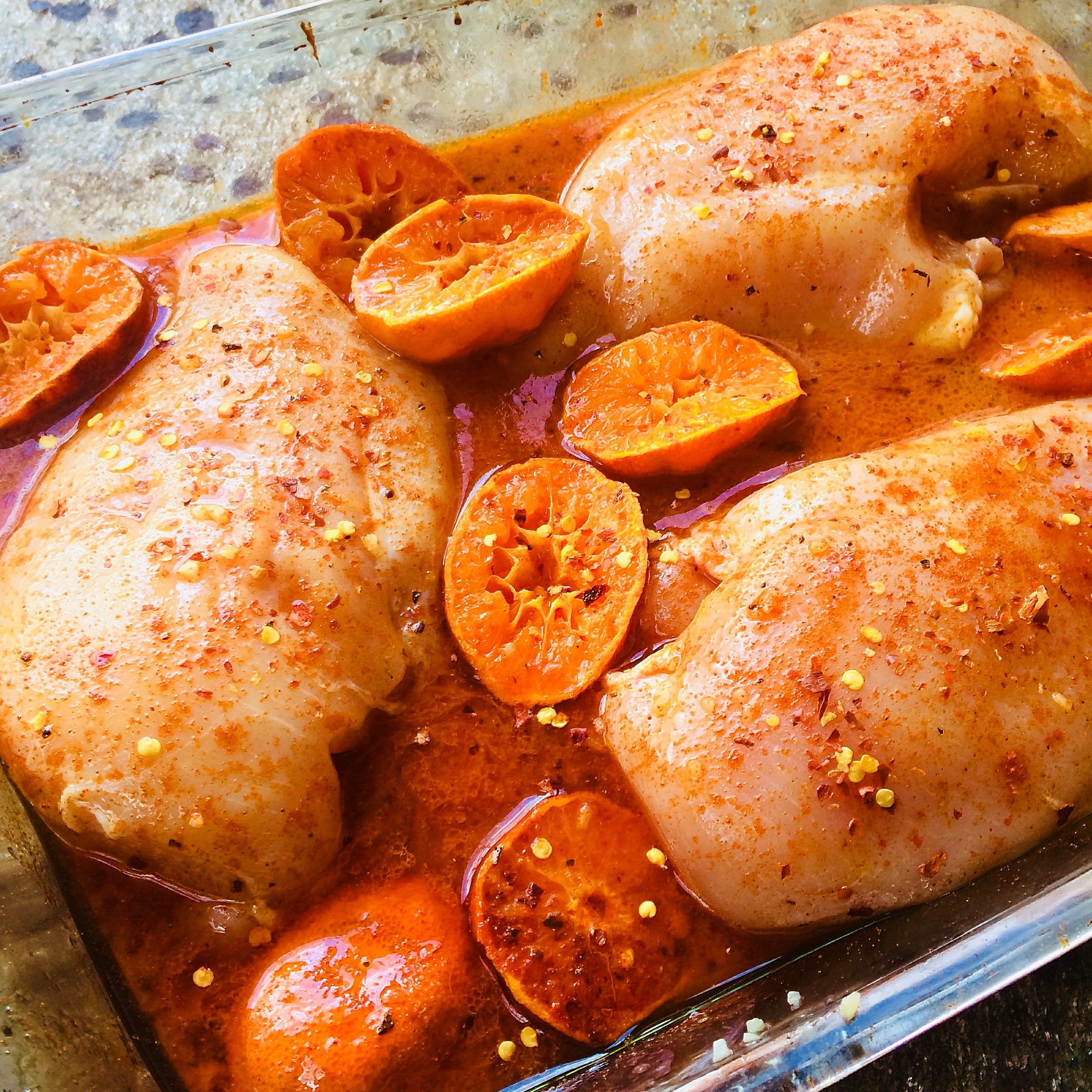 Ingredients
2 Lbs Chicken Thighs or Breasts
5-6 Clementines or other citrus
2 Tablespoons Olive Oil
2 Cups Chicken Stock
2-3 Tablespoons Harissa (to your taste)
2 Garlic Cloves, sliced
1 Tablespoon Fresh Ginger, Minced
1 Teaspoon Ground Corriander
1 Teaspoon Cinnamon
1 Teaspoon Ground Cumin
1-2 Tablespoons Kosher Salt
1 Tablespoon Crushed Red Peppers (to your taste)
2 Tablespoons Flour (if turning marinade into sauce)
2 Tablespoons Coconut Oil (if turning marinade into sauce)
Instructions
1
Juice Clementines into a medium bowl. Save clementine halves.
2
Add Olive Oil, Harissa, Chicken Stock, Garlic, Ginger, Coriander, Cinnamon, Cumin, & Kosher Salt to Clementine juice & whisk briskly.
3
Feel free to adjust spices according to your taste.
4
Place chicken in a non-metalic container & pour marinade over meat. Place Clementines around the chicken. Add water so that liquid covers proteins if you wish.
5
Add a dash more Harissa & Crushed Red Pepper Flakes to top of chicken, if desired.
6
Cover, refrigerate & let sit for a day or overnight.
7
Cook chicken according to your preference – roast, bake or grill. Reserve Marinade liquid if you wish to make a sauce.
9
Note: If making a sauce, make a roux in a large pan by melting coconut oil & then whisking the flour into the oil. Whisk marinade into the roux & reduce heat & let it simmer for a few minutes to thicken.
10
Want an idea of what to serve this with? Chicken & sauce can be served with any grain – try couscous for a Moroccan flair! It also goes deliciously with heaping piles of veggies & salads – if you are grilling think about serving with pita or flat breads along with baba ganoush, eggplant, & this yummy chicken!
Ema