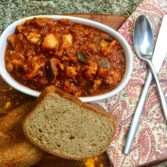 Harissa Chicken & Eggplant Stew
While I love looking at pictures of delicate plates of food on Instagram, I'll gladly forego fancy, petite bites for a hearty stew & fresh rustic bread just about every day. This recipe is definitely a simple dish. It's a thick, tomato based stew with diced chicken thigh & charred vegetables all simmering together. The slightly spicy, Harissa spice blend gives the stew a rich, deep & earthy flavor to which I add Turmeric, & additional Cumin, Sea Salt & plenty of Garlic. I serve it up with slabs of my handsome husband's homemade bread.
There's lots of Harissas now available to home cooks – while the spice originated in Tunisia, there are Harissas that have a more Moroccan flavor combination. Some are red pastes & others are dry spice mixes. For this recipe I used a dry Harissa that is a blend of Paprika, Caraway, Red Chili Pepper, Cayenne, Coriander, Cumin, Garlic, Peppermint, & Sea Salt.
I bet this would go wonderfully with yogurt if your home mixes meat & dairy.
This is a great recipe to use if you are someone who buys at the Farmers Market with abandon & then comes home & wonders what you are going to do with all those vegetables. Feel free to swap fresh tomatoes for the canned ones in the recipe & shove an extra onion or pepper into the pot.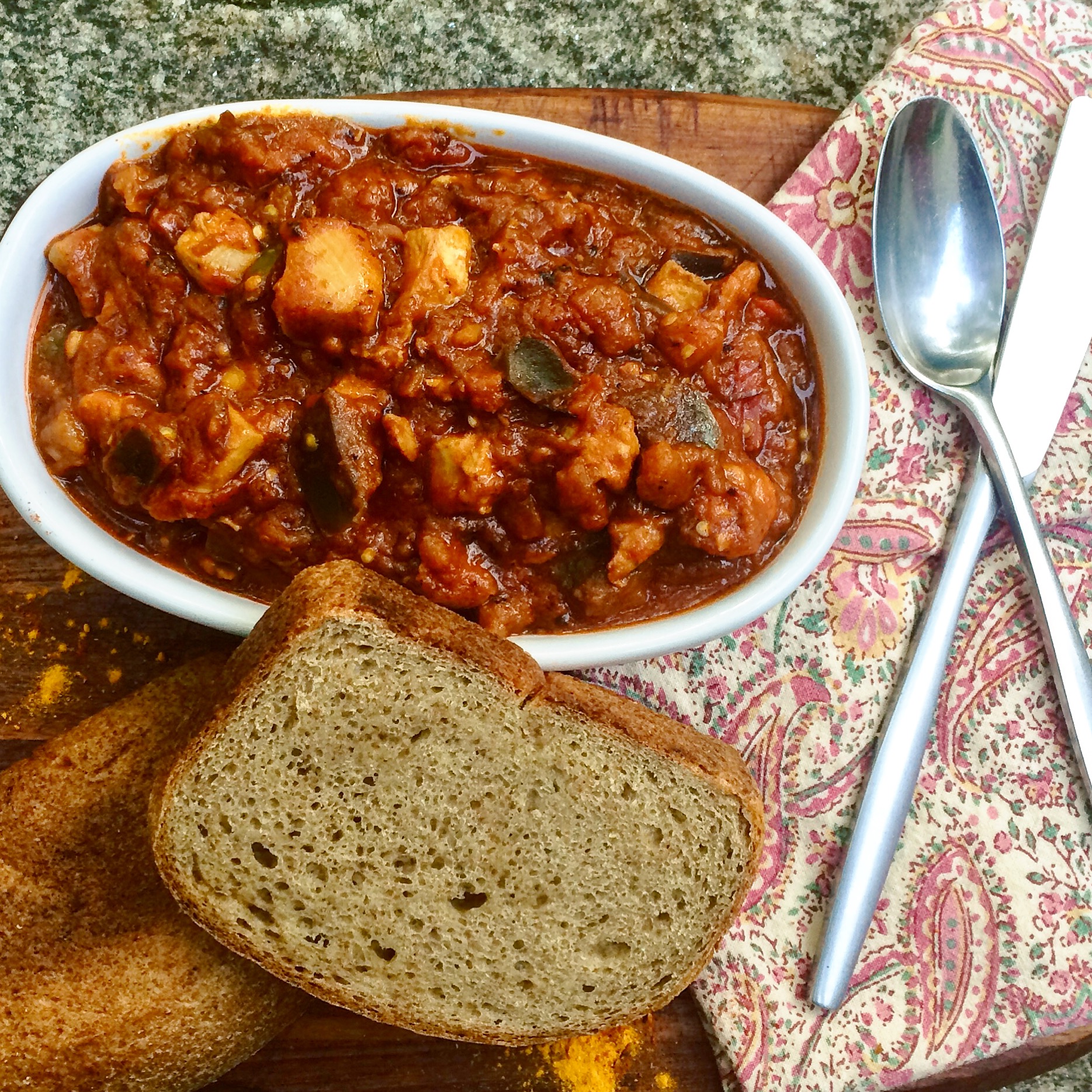 Ingredients
6-8 Teaspoons Olive Oil
2 lbs Skinless, Boneless Chicken Thighs, cubed
1 Large Eggplant
1 Bell Pepper
1 14.5 oz Can Fire Roasted Diced Tomatoes
1 28 oz Can Tomato Puree
1 Onion, diced
2-3 Large Cloves of Garlic, sliced
3-4 Tablespoons Harissa
1 Teaspoon Cumin
1 Tablespoon Turmeric
2-3 Tablespoons Lemon Juice
1 Teaspoon Sea Salt
Instructions
1
Char Eggplant & Bell Pepper over open flame until blackened on several sides. Let cool & then dice.
2
Warm 2 Tablespoons Olive Oil in a large Enameled cast iron pan with lid.
3
Cook cubed chicken thighs & then spoon into a bowl.
4
Add a teaspoon or two of Olive Oil to pot & sauté Onions & Garlic.
5
Add Tomato puree & Fire Roasted Tomatoes (including liquid) into pan. Stir.
6
Add Charred Eggplant, Peppers & Chicken to Pot. Stir.
7
Add all spices & reduce heat to low. Add additional Teaspoon of Olive Oil. Let simmer for a few hours, stirring occasionally.
8
Add lemon juice & taste adding additional Sea Salt, Cumin, Harissa or Lemon Juice as needed.
10
Note: I serve this with thick slabs of homemade bread. We spoon some of the stew onto our bread & eat.
Some people offer yogurt to accompany the stew.
Ema