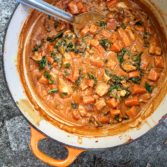 Ground Nut Stew
You know that moment when someone walks into your home & says, "something smells good"? Ground Nut Stew is like having a room diffuser of love scent. It's earth aroma invites people in at the front door & welcomes them as family at your table.
You want to have people over for a dinner that doesn't feel like a dinner party?  This is that meal.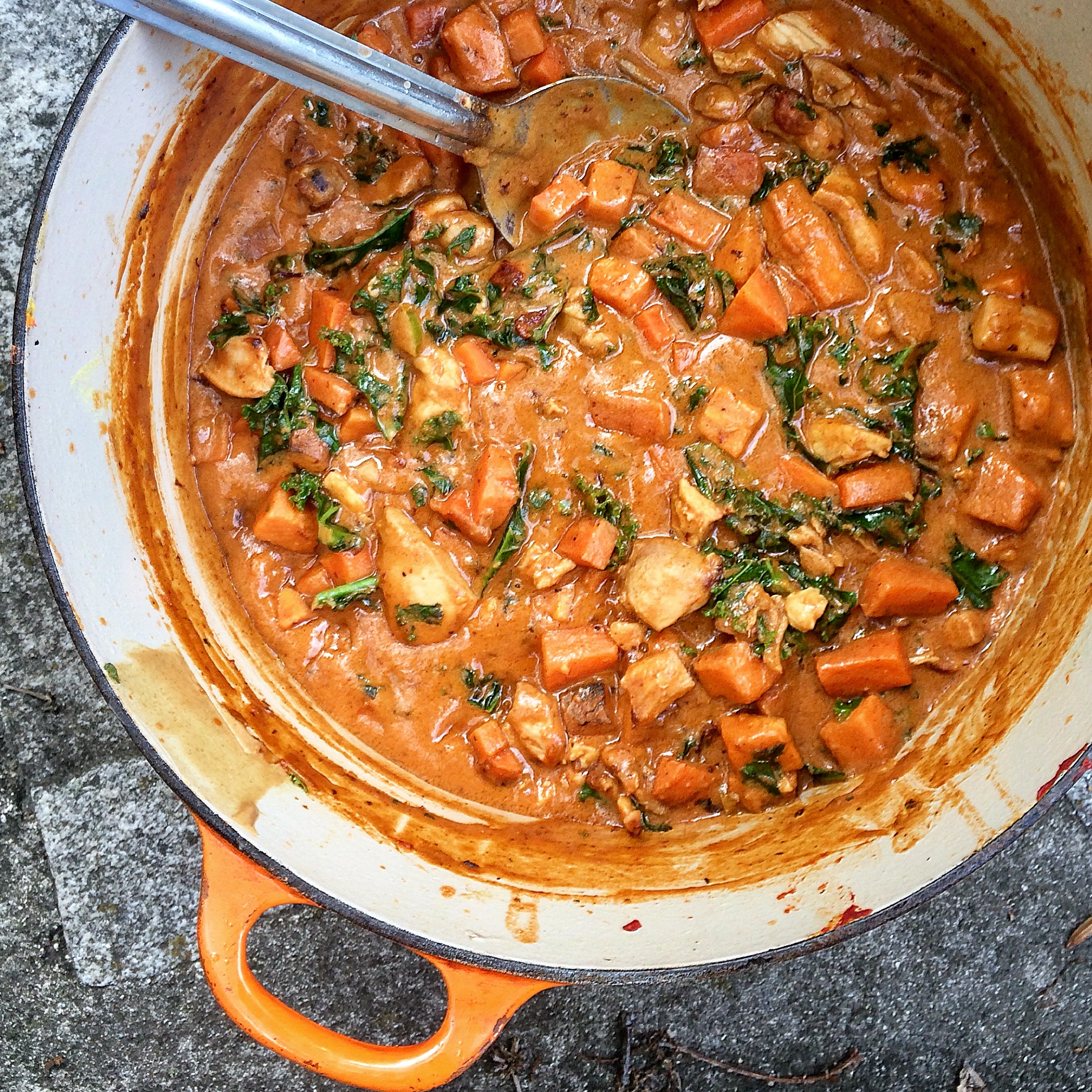 Ingredients
2 Tablespoons Coconut or Peanut Oil
2 cloves garlic, chopped
2 Tablespoons Fresh Ginger, peeled & chopped
16 oz boneless, skinless Chicken Thighs, cubed
3 Sweet Potatoes, cut into small rectangles (peeled if you want)
3 Carrots, cut into small rectangles (peeled if you want)
1/2 Jalapeño, chopped
1 Tablespoon Red Pepper Flake
5 Cups Chicken Stock
16 oz Can Chopped Tomato
1 Cup Peanut Butter
2 Cups Chopped Kale
Salt & Pepper
Crushed Peanuts as garnish, if desired
Instructions
1
Heat oil in a large dutch oven over medium heat.
2
Add Ginger & Garlic & sauté for a few minutes.
3
Add chicken & sauté until brown. Stir so that all sides get cooked.
4
Add Sweet Potatoes & Carrots & sauté 4-5 minutes, stirring occasionally.
5
Add Jalapeños, & Red Pepper Flakes.
6
Add Chicken Broth & Chopped Tomatoes & stir.
7
Cover & Simmer for 10-15 minutes or until Sweet Potatoes & Carrots are cooked.
8
Stir Peanut Butter into stew.
9
Add Kale and stir. Cover pot & simmer for 10 minutes.
10
Season with Salt & Pepper, more Red Pepper Flake &/or more Jalapeño to taste.
11
Garnish bowls with chopped peanuts, if desired.
Ema