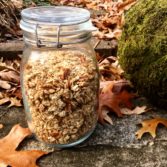 Ginger Pecan Granola
The irony isn't lost on me: I'm posting this recipe during Passover when we can't eat this– it is strictly forbidden in my home. Our family has always subscribed to the less, not more, philosophy during Passover which is to eat clean for the week & not have to buy a million special things at the supermarket. Matzah is the only flour/grain in the house – we clean like mad, box up everything with corn/legumes/grain, put them all in the garage, draft up a contract & sell our entire garage, all our leavened everything, & any crumbs we missed in cleaning, to a friend. Then, instead of loading up on Passover goodies from the Kosher Supermarket we eat lots of soups, salads, simple proteins, etc. Since we don't buy packaged foods or food products much at all during the year, why would we start now? So no Kosher for Passover sauces, cereals or special sodas find their way here.
Not much is missed during Passover – except maybe Granola. And my Granola is a decadent, calorie-rich deal. In fact, Granola is really crumbled cookies in our home; oats, seeds, nuts, brown sugar, vanilla & butter get mixed & baked in an oven. The result is a jar of granola that lasts about 3-4 days worth of being a yogurt topping when it isn't being a handful of snack as you walk by the dry panty. This recipe is for the most common granola I make, Ginger Pecan Granola. I make it a few times a week – especially when my husband has put a few fresh ginger roots in the blender to make ginger juice & we have lots of leftover pulp. You may not have that in your house so feel free to experiment with other flavors that you do have – the smell if this granola baking is worth it alone!
Organic Oats and other grains matters. Consider these for your next bulk purchases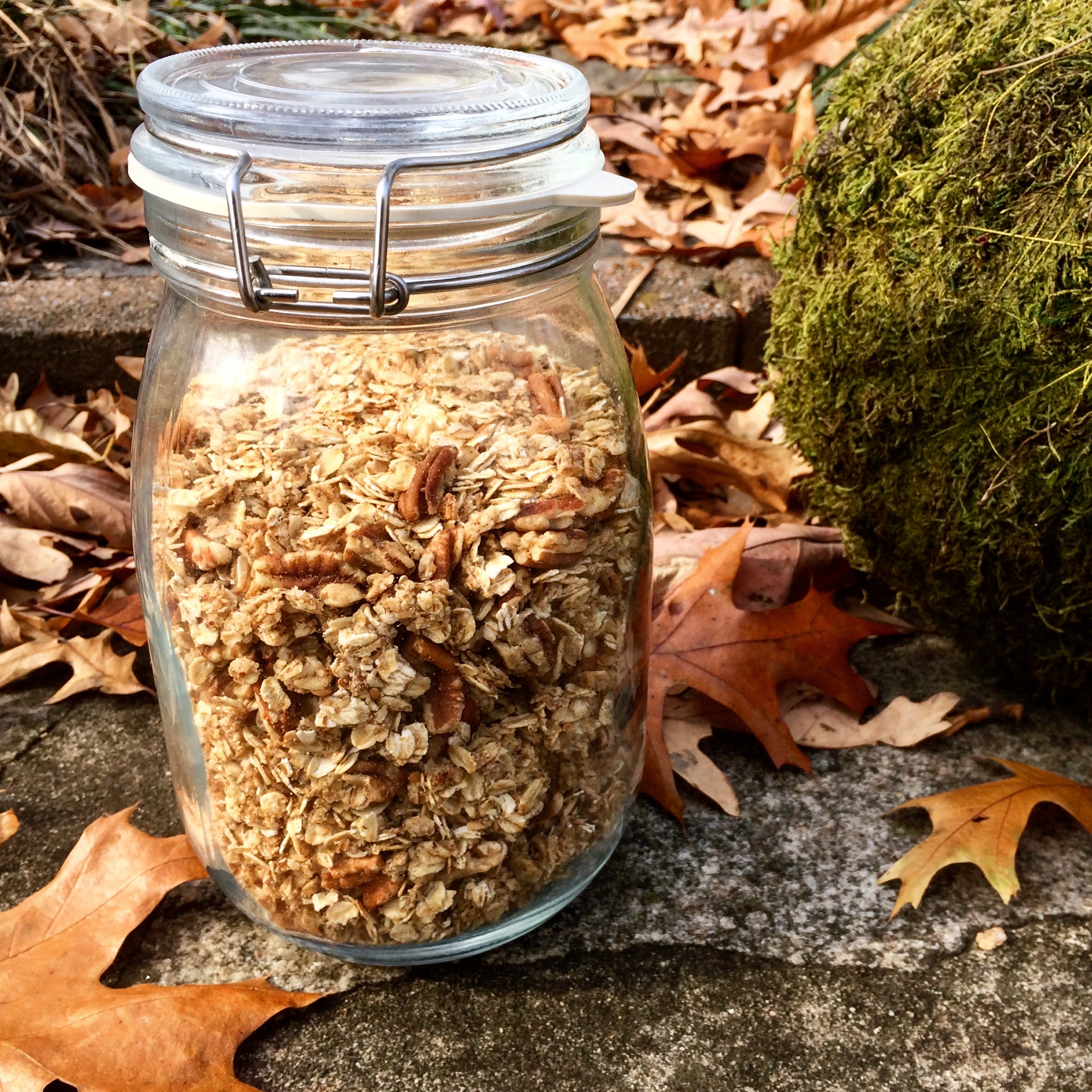 Ingredients
4 Cups Whole Rolled Oats
2-3 Tablespoons Black Chia Seeds
3-4 Tablespoons Golden Flax Seeds
1/2 stick or 4 Tablespoons unsalted Butter, melted
1/2 cup Brown Sugar (Light Brown tastes more like a cookie, Dark Brown tastes more like honey. Speaking of which, you can use honey instead if you want)
1/4 Cup Pecan Meal
1/4 Cup Pecan Pieces
2 Tablespoons mashed or grated fresh Ginger
or substitute 2 Teaspoons Powdered Ginger instead
1 Tablespoon Cinnamon
1/2 Teaspoon Sea Salt
Instructions
1
Preheat oven to 400 degrees.
2
Add dry ingredients (NOT pecan pieces) to a bowl & mix.
3
Stir melted butter into dry ingredients.
4
Add ginger, cinnamon, sea salt & stir again.
5
Line baking sheet with silicone pad.
6
Spread granola mixture out on silicone pad.
Note: the corners will get the darkest the quickest as the granola bakes. I tend to be careful & try not to have thin layers of the granola mixture in the corners. Either spread thickly or avoid corners.
7
Bake for about 12 minutes. It will start to smell like cookies a few minutes before it is ready. It is ready when the granola at the edges of the pan are golden colored. Remove from oven & resist stirring if you want there to be chunks in your granola. Let cool for 10+ minutes.
8
When you let it cool, the granola will have chunks. The chunks are where the sugar and butter held the oatmeal in little areas & make cookie-like bits. Those are the bits my family loves the most.
When cooled feel free to add more cinnamon or other spices, raisins, shredded coconut or other granola add-ons. I guess chocolate too, I just never think of it because I don't like chocolate.
Stir in pecan pieces. – Yeah I know, toasted nuts taste great. If you can add them in & not have them too dark when they baked, awesome. I can't. When I bake the granola with nut pieces in it, they get too dark & can taste bitter. If you were feeling really energetic you could toast nuts separately & add them to the cooked granola.
9
Pour into a sealable container, protecting those chucky bits!
Ema