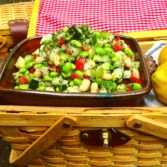 Edamame Israeli Salad
I think the ratio of crunch to soft is key in any Israeli Salad. I add celery to mine so that there is more crunchy bits which helps me offset the added beans which have a smoother texture. So do any of you lovelies think about the crunch ratio in your foods, or is this just me?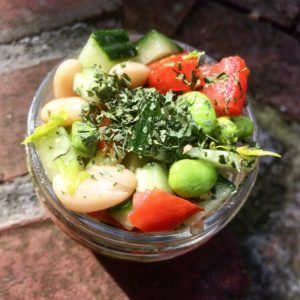 I have always loved Israeli Salads – inside pitas, alongside grilled chicken & veggies, against the tang of Baba Ganoush, for breakfast with a warm roll & an egg or two, & as part of Salatim – bowls of various salads served as a first course.
This Israeli Salad gets a protein punch by adding the Edamame & Cannellini Beans (and a bit of a global fusion, too). Lots of stores now carry shelled edamame in the frozen section which makes it easy to add them in.
Do you have upcoming picnic or potlucks?  My Edamame Israeli Salad would be an excellent choice to bring along!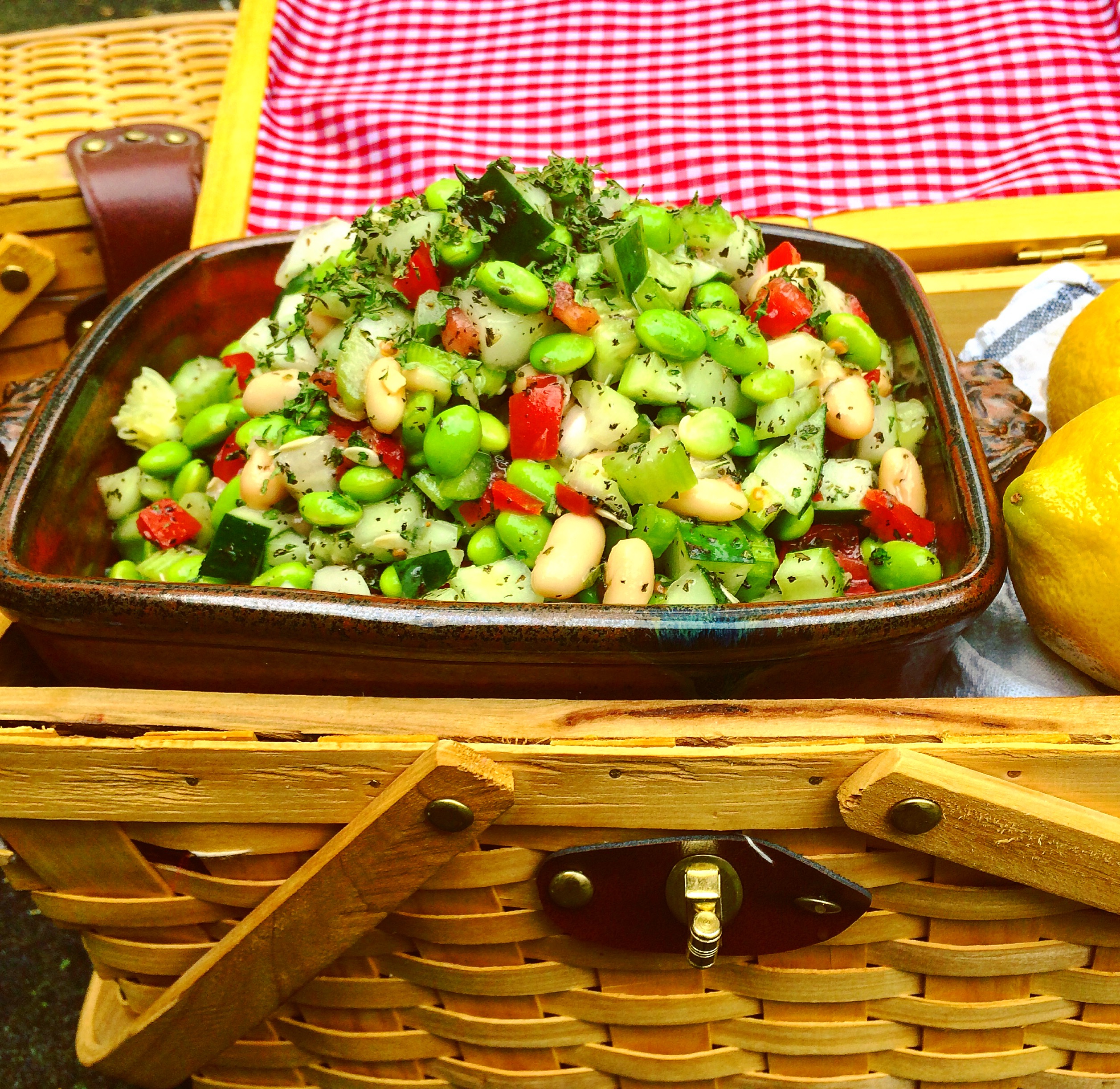 Ingredients
1 large Cucumber, chopped (about 3 Cups)
Tomato, chopped (about 1 1/2 Cups)
1/2 Onion, chopped (about 1 Cup)
3 Ribs Celery, chopped (about 1 1/2 Cups)
16 oz Edamame (I use frozen)
1 15.5 oz Can Cannellini Beans, drained & rinsed
1 Lemon, juiced
1 Teaspoon Dried Parsley (you can substitute fresh parsley if you have it)
1 Tablespoon Dried Mint (you can substitute fresh mint if you have it)
2 Garlic Cloves, minced
1 Teaspoon Kosher Salt
1/4 Cup Olive Oil
Instructions
1
Chop cucumbers, onions, tomatoes & celery into bite-sized chunks. If you use cucumber that doesn't have wax on the skin feel free to keep the skin on.
2
In a medium sized bowl whisk lemon juice, olive oil, garlic, salt, parsley & mint leaves. (reserve some parsley & mint to garnish the top, if you want).
3
Stir in chopped vegetables, edamame & beans.
4
Let this salad sit in fridge for a few hours to develop flavors.
Ema