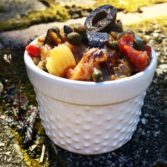 Caponata
There are some foods that hook you by their taste – think of testing ice cream blindfolded & it will be the flavor of that ice cream mixed with the creaminess & the cold that your palate will react to & you will know in an instant which ice cream tastes better than the rest. It might be because you like the vanilla made with vanilla beans more than you like the vanilla flavored with artificially flavored vanilla extract, or that you pick the best coffee ice cream and it turns out to be flavored with strong espresso & you like the extra bitterness of that coffee grind. What it won't be is smell first.
With Caponata the smell hits you hours before you eat it. That warm vinegar smell is blended with the burt char of the outside of the eggplant to create a smell that is pungent & pervasive without being too sharp. Even before you char the eggplant you start to get an inkling for how warm the smell will be when you mix the briney flavors of the capers & olives with the tomatoes and begin to warm up the apple cider vinegar. If I was in the fireplace business I would have a whole line of fatwood kindling impregnated with the smell of Caponata – smoky & rich & salty.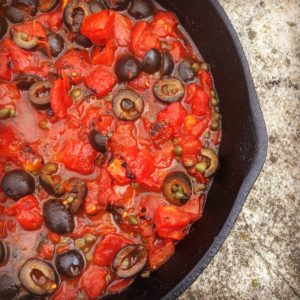 By the time you have all the ingredients mixed together the aroma turns your home into a tiny Italian Restaurant smack dab in the center of Sicily – and you can almost smell of hearty platters of pasta, cheese, & overfilled cannoli all served up family style. My Caponata brings that world to your world. Best served in a big heap with wine, cheese, bread, & olives.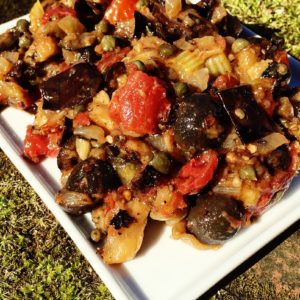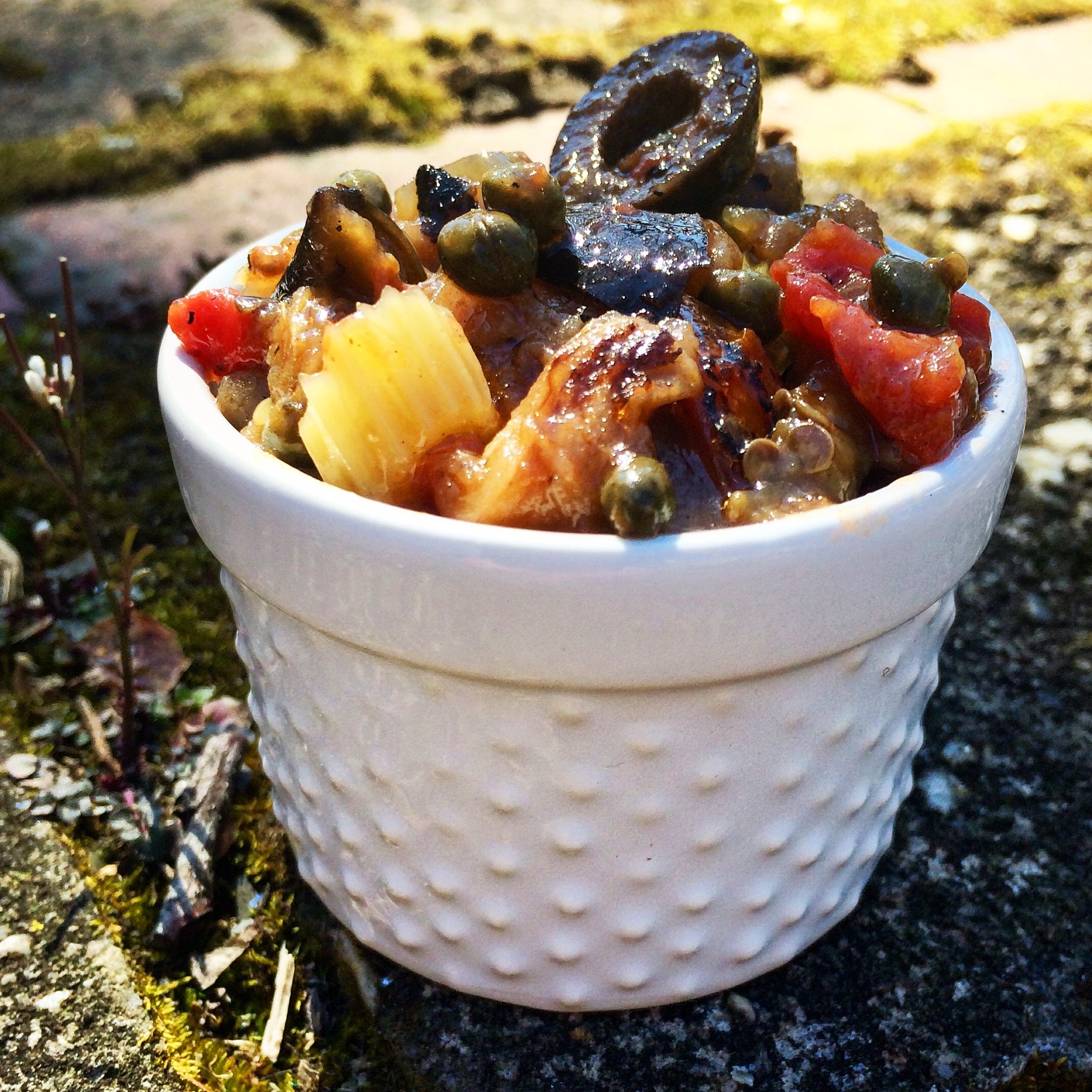 Ingredients
1 Medium Eggplant
about 1 Cup Olive Oil, to be used in batches
4 Celery Ribs, chopped
1 Medium Sweet Onion, chopped
1 (15 oz) Can Diced Fire Roasted Tomatoes, drained slightly
1 (15oz) Can Medium Black Olives, drained & rough chopped
about 1/3 Cup Capers in vinegar (I used ones in Balsamic)
1/3 Cup Apple Cider Vinegar
2 Teaspoons Sea Salt
1 Tablespoon Sugar
Instructions
1
Heat 1/4 cup olive oil in a large, cast iron skillet/pan
2
Add chopped onions and sauté for 6-8 minutes, or until it starts to caramelize
3
Add celery & sauté for another 6-8 minutes, stirring occasionally. Spoon into a mixing bowl. I'd recommend a non-metal mixing bowl so that the acid in the vinegar doesn't react with the metal & make the caponata taste metal-y.
4
Add olives, capers & sugar to the cast iron pan. I don't bother straining or washing the capers because mine come in vinegar – if your capers are packed in salt, I would recommend washing them before using. Stir & cook for a minute or two.
5
Add tomatoes & vinegar. Stir. Reduce heat & cook for about 10 minutes. You can also cover and cook longer – say for almost 20 minutes. You don't want all the vinegar to cook off.
6
Spoon out tomato mixture into the same mixing bowl as the onions & celery. Wipe down cast iron pan.
7
Char Eggplant on an open flame for several minutes, turning so that it chars everywhere. Use tongs. Transfer to cutting board & cut into 7-8 long strips.
8
Heat 1-2 Tablespoons of Olive Oil in cast iron pan & add 2-3 strips of eggplant at a time. Sauté for 5-6 minutes on each side or longer allowing them to turn golden/dark brown in places. Be careful not to add more oil than necessary or the eggplant will soak it up like a sponge & get really oily. Spoon cooked eggplant into mixing bowl & repeat.
9
Cut eggplant into pieces (rough cut into pieces larger than onions and celery) & add to mixing bowl of tomato mixture. Add sea salt & stir gently.
10
Cover & place in fridge for a day or so to allow flavors to develop.
Ema