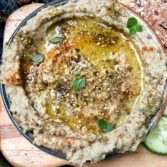 Baba Ganoush
The smoky flavor in my Baba Ganoush comes from charring the Eggplant when cooking. While this recipe calls for baking planks of Eggplant in the oven and then putting them under a broiler for a few minutes I have also been known to char the Eggplant over a gas flame. Either way the skin gets tossed in this recipe & the Eggplant's flesh hangs on to the smoky flavor. Delicious!
I serve Baba Ganoush with other spreads, salads, olives & breads.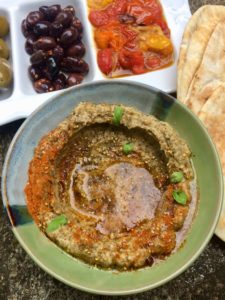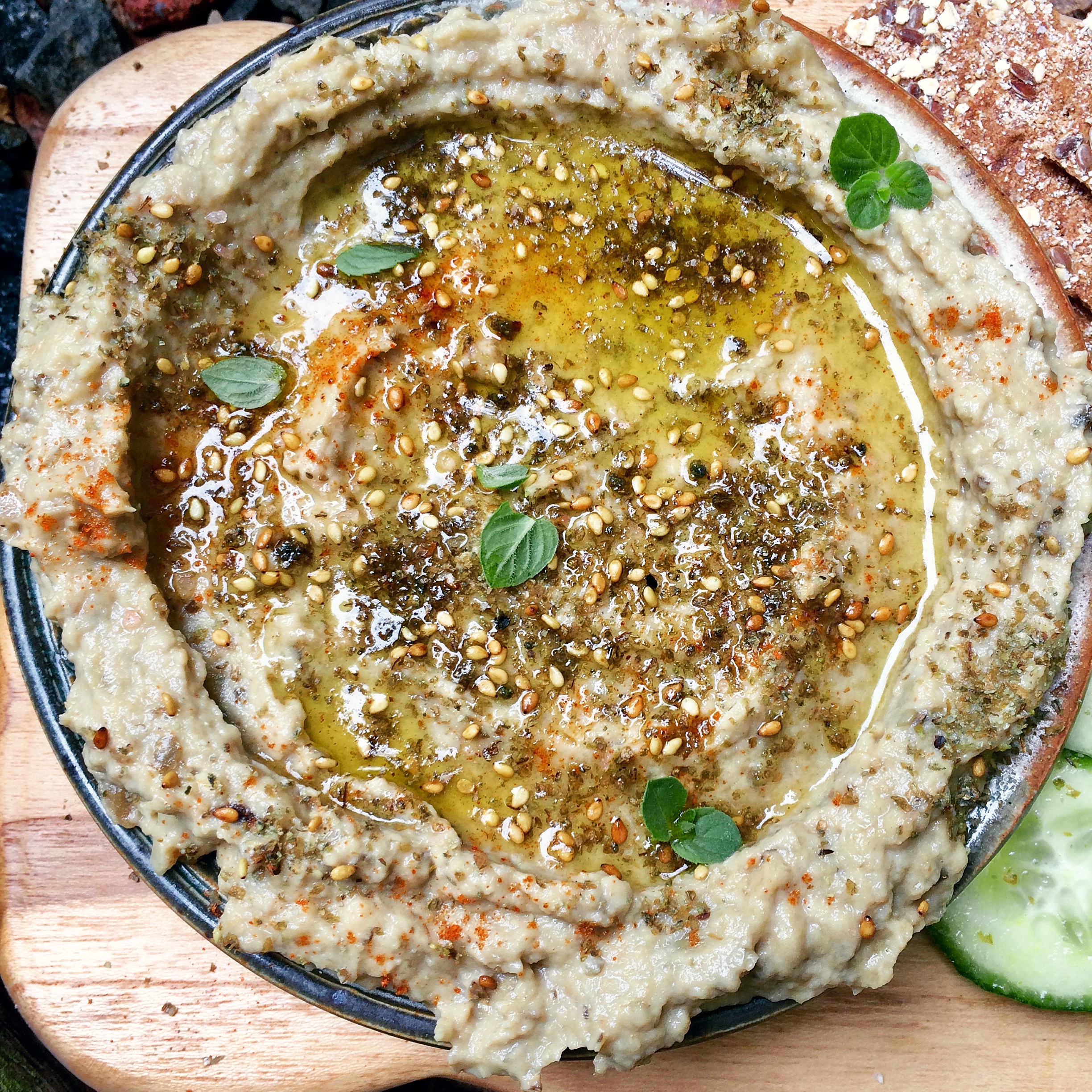 Ingredients
1 large Eggplant
5 Tablespoons Olive Oil
1 Clove Garlic, skin on
1 Heaping Tablespoon of Tahini
2-3 Teaspoons fresh Lemon Juice
Dash Sea Salt (or Kosher Salt)
A few twists of Fresh Black Pepper
1/2 Teaspoon Za'atar
Dash Mediterranean Spice Blend (or at least Cumin, Cayenne, Coriander)
Few Mint or Basil Leaves
Instructions
2
Cut Eggplant into 4-5 long planks, fork planks, put on cookie tray, drizzle with a Tablespoon or so Olive Oil & Bake 25-30 minutes each side. Broil until planks are mahogany, 2-3 minutes each side. Let rest.
3
Heat small cast iron pan. Add 3 Tablespoons Olive Oil. Add Garlic Clove with skin on. Sauté until browned. Turn off heat & let cool in oil.
4
Remove skin from Eggplant (which I eat when no one is watching). Place in bowl. Add Garlic Clove (remove skin), Tahini & Lemon Juice & blend with an immersion/stick blender.
5
Add salt & Pepper. Cover & let sit overnight in fridge.
6
Next day serve on a place with a lip & make a pizza dough depression in it. Drizzle Tablespoon of Olive Oil, shake some Mediterranean Spice Blend & some Za'atar & some Kosher Salt on top. Decorate with a few small mint leaves.
8
Note: I use Sadaf Mediterranean Spice Blend – you can always look up the ingredients & copy to suit your taste.
Also: Sometimes I forego baking the Eggplant and opt for charring it over and open flame. It make sure the skin is charred on all sizes & let sit before scooping out the inside flesh from the skin. Sometimes I place the hot, charred Eggplants in a bowl & let sit, covered with cling film, for about 1/2 hour before scooping into them. Other times I just cut the charred Eggplant in half & scoop out the flesh.
Ema